Chabad of Boca Raton Chinese Auction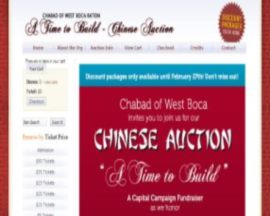 Chabad of Boca Raton is an Orthodox synagogue in Florida known for its outreach to unaffiliated Jews. The synagogue decided to have a Chinese Auction as a fundraiser, but they wanted to reach out beyond their local neighborhood. With their website development by Bitochon they were able to reach out and draw bids from across the U.S. We built the website for Chabad of Boca Raton with great flexibility in mind. It features an e-commerce web design that allows different types of tickets to be purchased via credit card.
The website accepts donations from anywhere in the world and at any time. Their Chinese Auction was a huge success because the synagogue was able to raise more money through the sale of tickets on their website. And they can reuse the website year after year for their annual Chinese Auction.