Nechamas Closet Chinese Auction 2014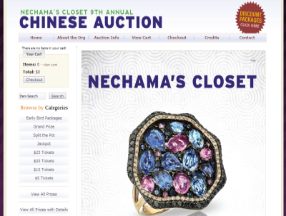 In 1997 Nechama Leiter(nee Brand), the daughter of Nochum and chana, passed away at the tender age of 32,Nechama was caring, gifted person who was very particular in the mitzvah of tznius.She was a picture of grace and elegance and it is in her memory that this Chinese Auction fundraiser "Nechama's Closet" was established. Nechama's Closet is giving women and young brides much more than clothing itself. Every woman knows the boost in self-confidence and morale that a new outfit or sheitel can give.
This non for profit organization choose Bitochon a website development company in New York for the second time. This ecommerce website design allows users to donate online, buy tickets, enter the lucky draw and view the winners for grand finale.