Yeshiva Tomchei Temimim Lubavitch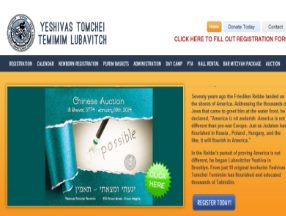 Yeshiva Tomchei Temimim Lubavitch is dedicated to helping children achieve their goals and through the years has graduated many students who have taken their places as Rabbonim, professionals and leaders. This yeshiva is located in Canada, but is well-known in the Lubavitch movement. The school had a need to raise funds outside of Canada and decided to have a Chinese Auction website design to reach out to the United States and beyond.

The yeshiva realized that by reaching more people it could raise more funds that could be used to provide students with a well-rounded education. The website developed by Bitochon helped them tell visitors about the school while encouraging them to donate. Yeshiva Tomchei Temimim considers their web site a success because they now find they have donors and site visitors returning.