Dwelling Place Publishing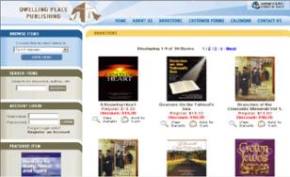 This Judaica bookstore sells books about Jewish law, Jewish history and other subjects about the Jewish religion. Bitochon's New York web design for the Dwelling Place enabled this specialty bookseller to make its merchandise available online and nationwide, especially in areas of the country where these types of books are not available. The site allows customers to browse and make purchases without leaving the comfort of home.

It also features a members only section where members can qualify for special pricing. Customers can make purchases with a credit card and not have to deal with CODs. As new books are published, the merchant is able to add them to the site without incurring the expense of a programmer. With this Ecommerce site, the Dwelling Place is open to customers 24 hours a day.