Akiva Chinese Auction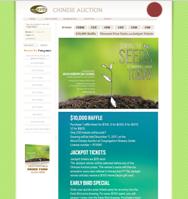 More than 40 years ago Akiva has been providing an Jewish Orthodox Zionist college preparatory education to residents of the Detroit area. They instill a great love of Torah and a commitment to Israel. Their dedication to the residents of their community is well known. The organization is successful, but as with any non profit group, funds are always necessary in order for their work to continue. As a part of a community, their fund raising was limited and they needed to reach out further, but how? A Chinese Auction Web Design was one answer. Items to be auctioned off were donated and tickets were sole both locally and online.
Visitors from New York to Florida to California responded and help their organization to grow and realize additional funds. A website developed for auction purposes allows you to display information about your organization and to display pictures of the prizes to be auctioned off. Visitors can view the prizes and purchase tickets with a credit card. The web design also includes a shopping card where visitors can store the prizes they wish to buy raffles for and only check out one time with one payment. Just think how many people can be reached with the Internet!