Where A Child Grows Chinese Auction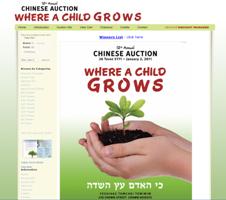 This Yeshiva, located in Canada, is dedicated to helping children achieve their goals. The School was established over 65 years ago, and since that time has become well known not only in Canada, but also into the United States. Many of their graduates have become community leaders as well as professionals in many fields. They are known to be well organized in their learning program as well as curricular studies. This school depends on the generosity of others to survive and keep the wheel rolling.Reaching out beyond their neighborhood and into the United States was necessary and Internet Advertising with their web site allowed their dreams to come true.
Bitochon developed an ecommerce Chinese auction website for this Yeshiva. The website is featured for accepting online donations, selling tickets and displaying other related information.