Nechama's Closet Chinese Auction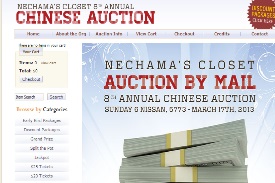 For the past 15 years Nechama's Closet has succesfully helped countless kallahs and women with Sheva Brochos,Shabbos and Yom Tov clothing. They also provide sheitels for kallahs and women. Hundreds of women have walk through their doors and each women has left not only with clothing but also with her dignity. This chinese auction website helped them to raise significant amount of funds for this nobel cause.


This Chinese auction website development for Nechama's closet not only allows display of information and images but is also a fully functional ecommerce web design that accepts donations online and enables purchase of online tickets.