Cornell Insurance Services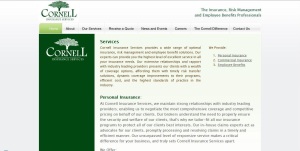 Cornell Insurance Services is a full service insurance provider and employee benefits specialist. This website design by Bitochon includes an "About" page, a description of the firm's services, a page for jobs at Cornell Insurance, and contact information. Interested parties can fill out a form to receive a quote.
The website development of this easy-to-use administration allows the school's site administrator to make changes to the content as needed.