Yeshiva Merkaz HaTorah of Staten Island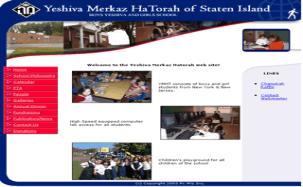 This database-driven New York web design includes a flash intro with photos of students and teachers participating in various classes and activities at the school.The website consists of "About Us" and other pages including admissions and registration, school calendar, FAQ, and directions to the school as well as contact information. Parents can fill out forms and submit their applications online.Owners can update events and announcements when required.

This website development gives user an easy-to-use administration interface that allows school to make changes to the site's content as needed.