Yossi's Gift Baskets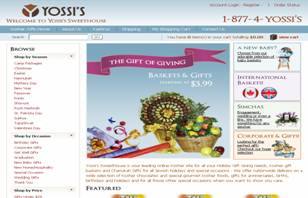 Yossi's is a local business in Brooklyn, NY, with locations in Boro Park. After repeated requests from its customers, they decided to launch a web store. As a result, they have gone from being famous locally to being well known nationally.The website features an easy-to-use administration interface so that revisions can be made anytime to content as needed.It also allows website administrator to change prices,details and quantities of baskets.
The Ecommerce web design by Bitochon enables customers to purchase kosher gift baskets and platters and send them nationwide as well as to Canada and Israel. Customers can view featured gift baskets and platters and if they do not see something they like they can contact Yossi's and they will create a custom design.