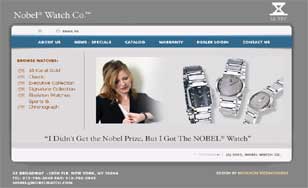 Nobel is a U.S. company that specializes in the manufacturing and distribution of mid- and luxury-priced watches. The firm has a reputation for superb website design and performance in its line of premium watches. Nobel's headquarters is in New York City, but it produces thousands of timepieces annually in Switzerland-some parts are produced in Asia.
Nobel approached Bitochon because at the time the company was only doing business with repeat customers and was looking to grow its customer base. We designed and developed a catalog/database website design that showcases the different watches offered by this maker of fine timepieces. The website allows visitors to browse different watch models, which are driven off a database, and includes an administrative front end so that Nobel can maintain the site.
By establishing a catalog/database website design,Nobel watches was able to showcase its products nationwide and attracted customers from across the U.S.