Yeshiva Darchi Menachem New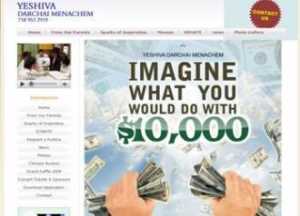 Yeshiva Darchai Menachem was founded by Rabbi Shlomo Lakein in 2001. The Yeshiva was created as a direct response to the needs of the children who were unfortunately not succeeding in their current environment and had no educational system to meet their needs. Located in Brooklyn, New York,USA Yeshiva Darchai Menachem is a school that has been striving to utilize innovative learning systems and a warm caring environment to ensure that each child receives the best possible education.
As with any school, the need for cash to cover their expenses was never ending. They decided to have a Chinese Auction as a fundraiser, but they wanted to reach out beyond their neighborhood. With their web design by Bitochon they were able to reach out and draw bids from across the nation. We developed Yeshiva Darchai Menachem's website design with great flexibility in mind. It features an e-commerce web design that allows different types of tickets to be purchased via credit card. The website accepts donations from anywhere in the world and at any time. Their Chinese Auction was a huge success because they were able to raise more money through the sale of tickets on their website. Furthermore, they can reuse the website year after year for their annual Chinese Auction.